NTEN's Nonprofit Technology Conference (NTC) took place March 13 through the 15th. The signature three-day gathering brought together nonprofit professionals from around the world to collaborate, innovate, and maximize effectiveness. With a wide mix of social events, seminars, trainings, and resources, the 2014 conference had social media abuzz with conversations using the hashtag #14ntc.
Using Salesforce Radian6 we took a look at the conversations happening around the 2014 Nonprofit Technology Conference for those three days, and here's what we found:
There were over 18k conversations across the social web about the conference!
The majority of those conversations took place on Twitter –
The bulk of conversations happened when the conference kicked off on Thursday the 13th, though Friday was quite busy as well.

Taking a look at *demographics around the conference the majority of participants were female. Here's the breakdown –
And 35 – 44 year olds took the lead when we took a closer look at the *demographics around age groups –

It was also very interesting to see that though the majority of conversations happening across the social web were in English, conversations were also taking place in Spanish, Turkish, Arabic and Italian.

Since the conference took place in DC, it was no surprise it was one of the top regions. However, there were several other top regions based on the volume of conversations as well –
The top 5 tags used across the social web were as follows –
@StayClassySD had the most discussed topic with 44 on topic posts around her session –
Taking a look at the top phrases using a word cloud, you can see which hashtags stood out. People were even already discussing next year's #15NTC.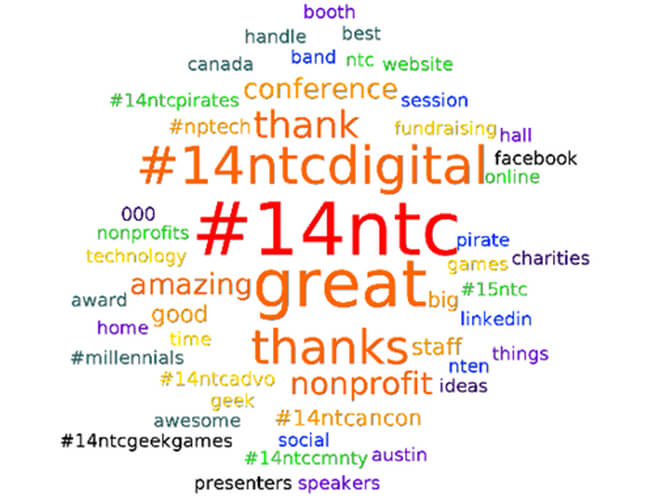 All in all, it was quite a successful conference with plenty of discussions happening on and offline. Did you attend the 2014 Nonprofit Technology Conference? If so, what were some of your sessions and takeaways? We'd love to hear about them in the comments below.
*Demographic information is only available from users who have filled out this information in the social profiles.